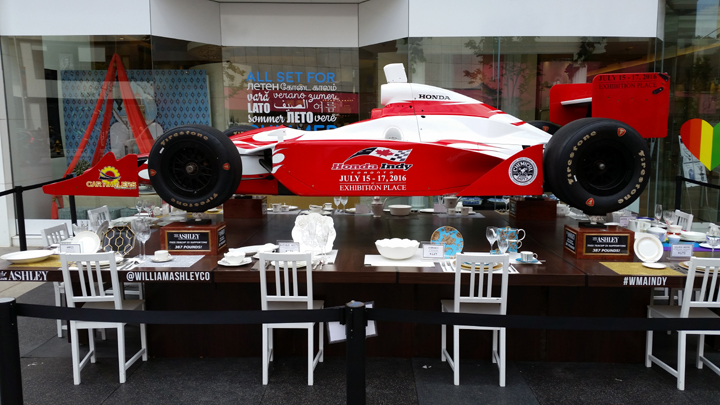 While walking east along the south side of Bloor Street in mid-town Toronto with my colleague Bob, I saw something quite unusual. Hovering above a large wooden table on the sidewalk in front of William Ashley's store at 55 Bloor Street West was a full sized Indy race car. I don't know a lot about racing, but I do know that cars and their tires are supposed to be on the road, so I was intrigued.
On closer inspection, I discovered the 1,400 pound replica car wasn't hovering but was sitting on four delicate looking bone china tea cups, one under each tire. The tea cups themselves were part of an elegant table setting featuring William Ashley's finest.
A little online snooping uncovered that William Ashley launched the display in 2011, 25 days before the 25th anniversary of the Honda Indy race in Toronto. The race organizers had approached William Ashley, a long-time sponsor of Toronto's annual Indy race, with this outdoor display idea to jointly promote the race and the store, along with the superior strength, durability and performance of bone china.
As we discussed the uniqueness of this marketing idea, Bob turned to me and asked the question I get asked the most. "So, how would you measure that marketing program?"
Without flinching, I replied with my favourite answer, "It depends". Since I didn't know William Ashley's actual planned objectives for creating this display, I couldn't know exactly how to measure whether or not it worked.
Despite that roadblock, we agreed to speculate on what their objectives might generally have been, and I've added some measurement thoughts for each:
Objective #1: Create a unique and interesting event to generate press coverage.
Measurement #1: In its simplest form, this is a matter of tracking the number of impressions through the various stories and mentions about their launch event through various print, broadcast, digital and social media.
Objective #2: Communicate the key attributes of bone china.
Measurement #2: While the first objective relates to how much coverage, this one relates to more important issues, such as the quality, accuracy and tone of the coverage. It could get into things like media monitoring, text analytics and sentiment analysis of the various forms of coverage. You could supplement that with before and after surveys and by intercepting people on the street to see if they saw the display and understood the message.
Objective #3:

Increase store traffic.
Measurement #3:

Count the customers, of course, but you need to compare the count to something, like how many customers they normally get on Wednesdays in June, or when they've created similar displays previously.
Objective #4: Increase bone china sales.
Measurement #4: It's easy enough to add up the sales, but it would be helpful to compare the total to an average, or baseline, as with the store traffic example. You'd also have to decide how long that display might affect bone china sales. Seeing that display made me think (and write) about the superior strength, durability and performance of William Ashley's bone china, and maybe now you're starting to think about it. I'm not in the market for bone china right now, but maybe in the future and perhaps you will be too!
The key lesson in all of this is that you need to set clear measurable objectives when planning your marketing in order to know what to measure and learn whether you've succeeded. In other words, measurement should be directly linked to your planning process. Defining how you will assess whether a marketing program is successful should be an integral part of planning.
Good objectives will define the metric(s) that will be used to measure success, and the specific numerical outcome you want to achieve. For example, it can be a percentage change from a comparable period, or a specific outcome that you've determined would be worthwhile relative to the cost of the program.
My four speculated objectives above were purposely vague to highlight the challenges presented by the lack of clarity.  When you set your objectives, be very clear about the outcome you're looking for. Here's a better version of Objective #4: "Increase bone china (all brands) sales for June and July by 20% vs. June and July of last year". That, you can measure.
Without proper objectives, how or what to measure becomes an exercise in guessing, much like Bob and I had to do. To take the guesswork out of your marketing measurement, it needs to begin as part of your planning process. That's where the rubber hits the road.